B2B business owners & solopreneurs:
Do you want to feel more confident, sell more and remove the uncertainty from selling?
(whilst being relaxed – not pushy or "salesy")
---
What our clients say
⭐️⭐️⭐️⭐️⭐️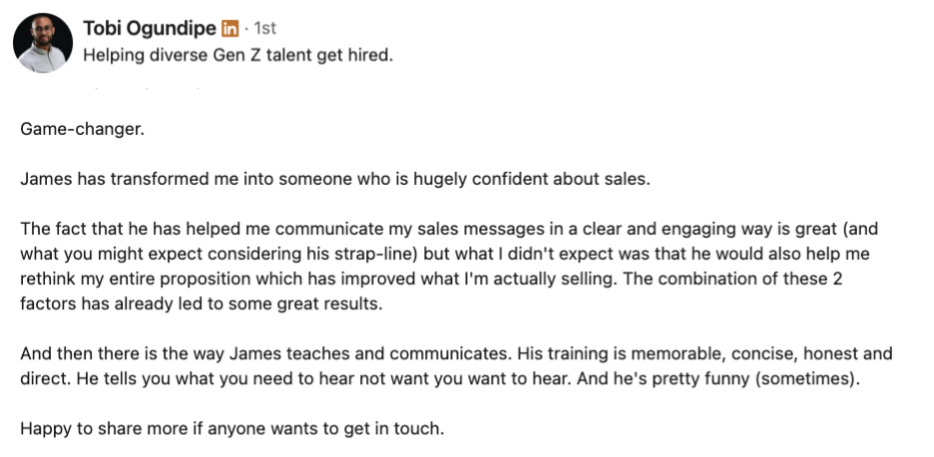 ⭐️⭐️⭐️⭐️⭐️

---
Most people are fearful or unsure about selling – often because they just don't know what to say or what to do.
There's a lot of uncertainty, unknowns and as a result… inaction.
Selling Confidence™ is my 6 month group coaching programme that's designed to make you more confident, help you sell more and remove the uncertainty of sales and selling.
It focuses on the core areas that will guide your daily actions, whilst providing the support, accountability and feedback you need to succeed: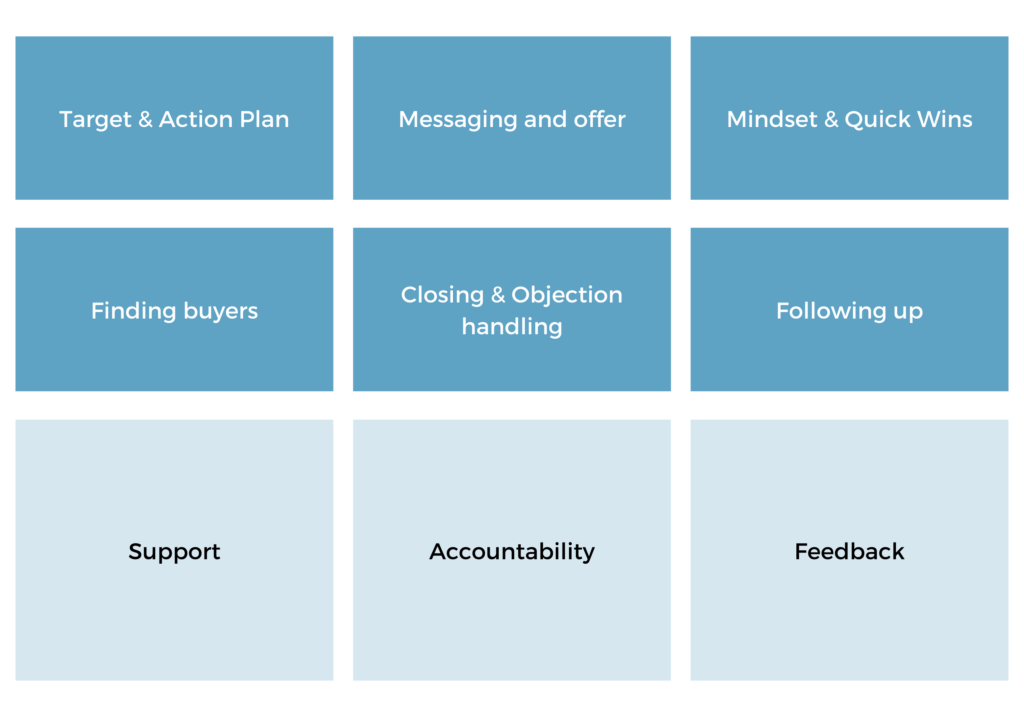 It's based on my unique step-by-step methodology which has not only helped make £millions and £thousands per month for my clients…
It's something I lecture on at universities like UCL and BirkBeck and share with corporate partners like MSDUK.
---
---
Who is it for?
Selling Confidence™is for you if you're a B2B business owner or solopreneur, looking to overcome your fear of selling, raise your prices, sell more and ultimately create a more robust and repeatable sales approach.
If this is you, you're probably struggling with:
Talking about the price
Not promoting your offer enough
Making outbound emails/calls
Knowing how to follow up
Refining your offer
Charging your worth
Dealing with rejection
Knowing what to say in messages/emails
Handling objections
…sound familiar?
You know exactly what you are selling,
you just need to remove the uncertainty
and build the confidence you need to succeed.
---
How does it work?
Selling Confidence™ is a 6 month program that provides everything you need to succeed.
Training: 2 x 1-hour weekly calls where James will answer your questions live on Zoom
Tools: Optimise your time, content, lead gen & sales process
Methodology: You get access to our complete methodology so you know how to navigate any selling situation.
Community: Join our thriving community on Slack & network with other members, all on the same path as you
Support: Get 24/7 support from the community and James.
Feedback: Request feedback on your messaging  and create your own Clear Sales Message™
When you join, you'll have a 1:1 strategy call with James to set your focus for the coming months and create a personalised action plan.
---
Why should you listen to me?
It's not the fact that I had a 12 year, £600M corporate selling career.
And it's not because I've lectured at universities like MIT, BirkBeck and UCL
And it's not because I have 450+ Linkedin recommendations for my training.
It's because I've made mistakes that you can learn from.
And I can help you avoid all of them:
I've undercharged for my work
I've been nervous about outreach
Talking about the price was difficult
I wasn't sure how to follow up
I wasn't sure where to find clients
I struggled with rejection.
I set out to create a "paint by numbers" system to teach anyone how to sell, and give them a play by play approach that is based on natural communication – not techniques and trickery.
And my methodology currently has 400+ individual components that we can use and combine together to get the desired outcome you're looking for.
No fuss – a just step by step, logical methodology.
---
So, if your'e a B2B business owner  / solopreneur and you want to feel more confident AND sell more stuff, Selling Confidence™ is for you.