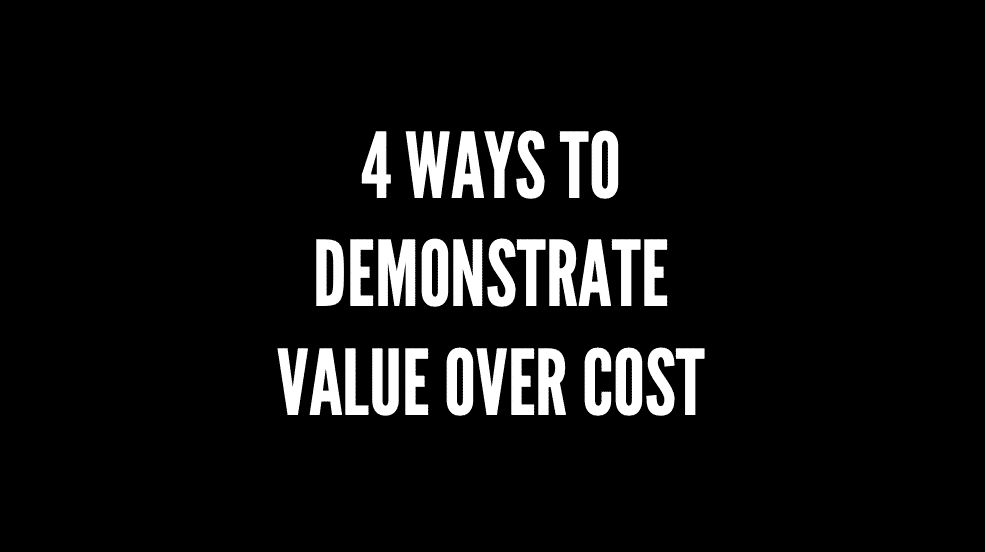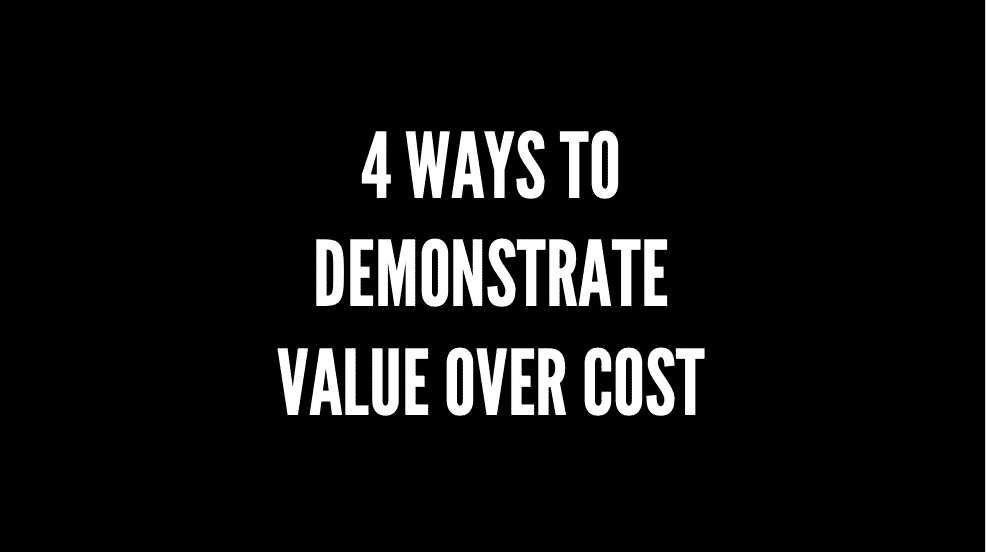 When speaking with clients, they will be trying to "justify" the cost of your offering against their need.
As the seller, the burden of proof will always lie with you to explain why you charge what you charge and how that reflects in the quality of the products and services you offer.
To help save yourself from cost-based negotiations and to to help avoid discounting, it makes sense to have some "arguments" prepared to explain and justify your charges by demonstrating value over cost.
Here, we look at 4 simple ways you can demonstrate value over cost.
1 – Demonstrate the transformation.
Focussing on the destination (not the journey) is always the right way to proceed, but you also need to demonstrate the before and after effects of your offering.
Where does your client's journey begin and where does it end? How could you focus on the physical, financial and emotional impact your offering has? When you focus on the outcome and what that means to the client, their price sensitivity fades.
2 – Demonstrate the approval of others.
Social proof is a powerful thing. We use reviews, case studies, and recommendations to help guide our buying decisions and eradicate potential risks.
Your potential buyers will be conducting due diligence before they buy and doing their research on you, your business and your offering. Providing proof that you can actually deliver what you claim to be able to deliver is an under-utilized yet powerful tool. With less proof, or no proof, your potential buyer considers the purchase more "risky" and thus may seek a discount to quell that feeling of risk.
3 – Provide a guarantee
The only reason we worry about price is because value hasn't been properly established. Offering a guarantee, if feasible for your offering, is a great way to demonstrate confidence in your offering and your ability to deliver what the client needs. It also creates a potential "no brainer" for the buyer.
4 – Provide value before they've spent anything.
If feasible for your offering, can you offer a free trial, a free sample or access to a free version that allows the potential buyer to experience what they can expect and get a feel for your offering? Can you demonstrate your skills and ability by sharing articles, videos or other content that positions you as an authority in your space?
Providing such "quick wins" is a strategy I take in my business. By demonstrating actionable value, I can create an engaging relationship with you that's based on value over price.
So there you have it.
If you are facing difficulty with a client who is fixated on price and asking for a discount, or they're just not sure "what they get for the money", these are 4 simple strategies you can use to help you stand your ground on price by demonstrating value.
Like this kind of stuff? Want more?
84+ ways to reach, engage and convert people to buy using psychology, science and common sense.
In the book we cover:
 How people work – 18 factors that affect client behaviour.
 Selling Communication Basics – 12 ways to communicate more clearly.
 How to get attention – 18 ways to stand out and be noticed.
 How to engage – 27 ways to engage potential buyers.
 How to convert – 10 ways to convert prospects to buyers.
Everything in the book works and is backed by psychology, science, common sense and my own testing.